To see some of these kids 45 years later, Click here.
February 2007 Update: Click Here
Eighth Grade Graduation June 2, 1957
Assumption Hall Catholic School, Hibbing, Minnesota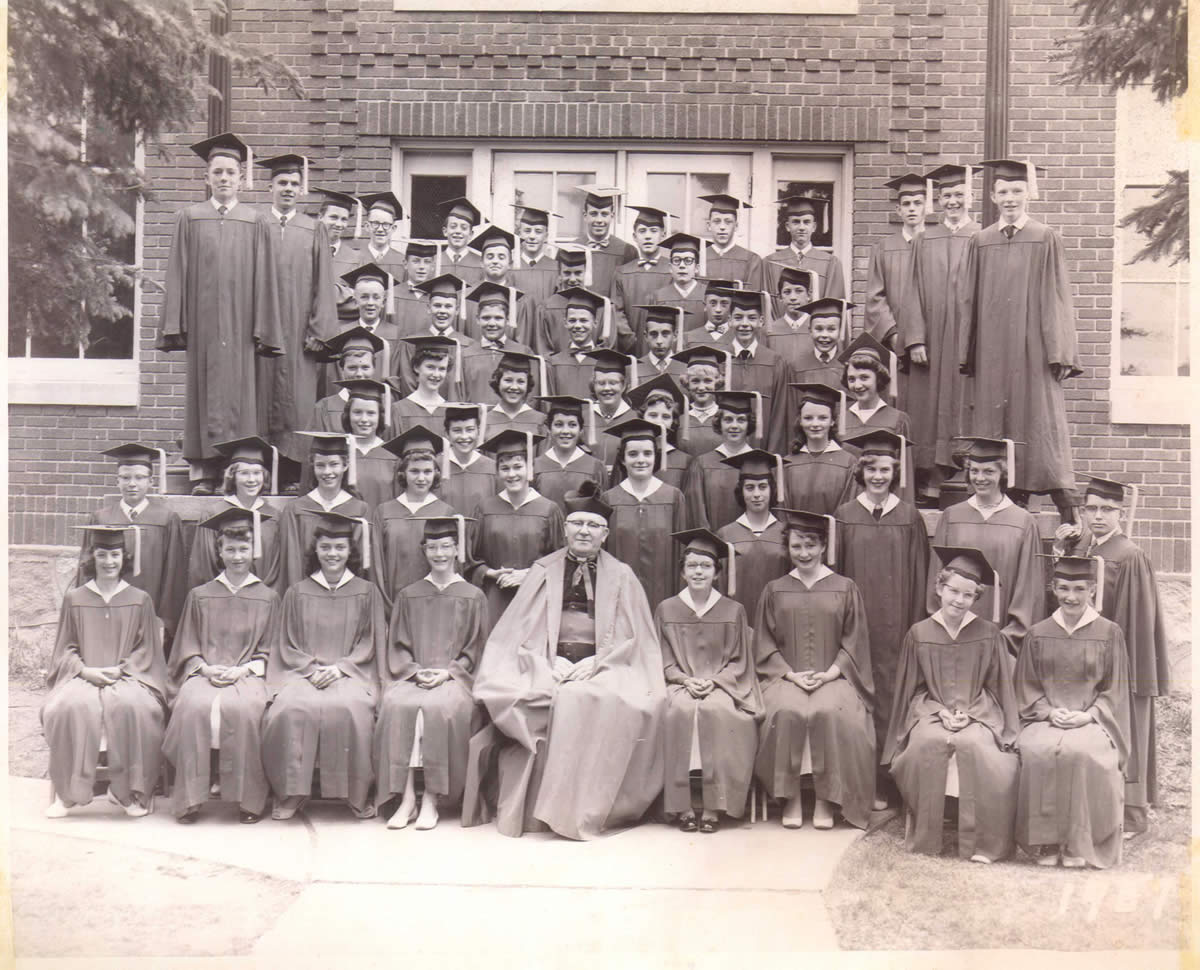 Picture Supplied by Maureen (O'Reilly) Farrell Denver, CO
Pictured Left to Right:
Front Row : Mary Jo LaTendress, Marion "Chic" Swanson, Mary Farichild, Maureen O'Reilly, Monsignor Patrick Byrnes, Roberta "Bertie" McGowan, Margaret "Peggy" Eaton, Diane Gazelka, Carolyn Warmuth.
2nd Row : Tom Pharise, Diane Drong, Patricia Wippler, Charlene Zoener, Barbara Scofield, Rochelle Bretto, Michele Laurienzo, Eilene Tate, Joann Gaige, Terry Meyers.
3rd Row : Judy Zbacnik, Kathleen Barrett, Patricia Cummings, Betty Mae Mlaker, Mary Angeli, Frances Mansfeild.
4th Row : Joan Grecula, Nancy Peterson, Barbara Toomey, Nancy Johnson, Jeannette LeDoux,

????????
5th Row : Duane "Dewey" Winsor, Jacques "Jake" Johnson, John Scott, John "Ricky" Tangadahl, Michael Laurienzo, Tom Calligure, Roger Waseleski?
6th Row : Patrick Furlong, John Husted, John Furin, Ed Beckers, ????????, Theodore "Teddy" Vonfeldt.
Back Row : Patrick Nash, John Yuretich, Patrick Daley, Eugene Skalski, James White, Everett Macy, Richard Whelan, Fred Nelson, ????????, Frank Yuretich, ????????, ????????, Terrence "Terry" O'Brien.
If anyone has information on the unknowns, click
here
to email.
A 2006 view of members ofthe Assumption Hall Class of 1957
February 2007 Update: They are expanding the Assumption Hall School.
These photos show the new addition added on to the High School side of
the Catholic school as part of a $4 million renovation.