I hate to say it, but in recent years,
large blocks of time would pass
without us connecting
but then, when our paths crossed,
it was like time had vanished -
and it was 3 o'clock -
and we had just left school
to go hang out at the Sweet Shop
and get a cherry coke from Pop
and talk about who was going with,
or just broke up with, whom.
School was when the thread connecting us was wrapped together.
From the first grade in the elementary wing of the infamous HIBBING HIGH SCHOOL thru 12th grade our friendship grew.
Alphabetically, her name was the one before mine so she frequently
sat in front of me. That's how I found out she liked to have her back
scratched. I'm sure all the teachers wondered what was going on
between us.
We shared a lot of experiences in Junior High and High school-
Val Petersons 7th grade music class listening to music from Oklahoma,
Mr Sutherlands speech class where we learned to pantomime to all
the great artists -
Elvis,
Pat Boone,
Teresa Brewer,
Little Richard.
In my last conversation with Bonnie, which I was fortunate to have
just last week, I mentioned I had come across a picture of me at a
sophomore party in the girl's gym. I remember doing a pantomime
on stage to Pat Boone's "I'll Be Home" but I couldn't remember why.
She related that they picked pantomimers from the speech class
and she told me she also was on stage doing a pantomime to the song
"They're Coming To Take Me Away - Ha Ha"!
There were the 8th grade parties in Scott Harrison's knotty pine
paneled rec room with Sheila, Tallie, Vickie, Joanne, Pauline, Jean,
Alicia, Fuzzy, Brian, Scott, Bill, Jim and the rest of the gang.


The parties in Brian Burton's basement


and the parties in my basement.

Bonnie was always dancing and drinking a bottle of Coca-Cola
while she was dancing.
The parties encapsulated in pictures
from my Brownie Hawkeye Camera.

And the time they cancelled school on a Friday because of a
snowstorm but all of us walked to school anyway to buy tickets to
the Saturday night Basketball game.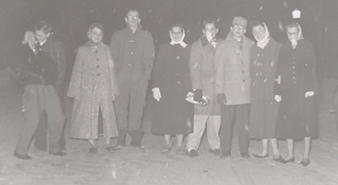 Learning how to drive and actually getting your Dad's car to go
"cruising". The times we played "Chinese Fire Drill". Bonnie in her
Dad's 55 Pontiac stationwagon - it wasn't her image at all!
And the times
you had to explain
to your dad
how you could put 150 miles on his car just cruising.
After all,
Howard Street
is only 1 mile long.



All the Friday nights spent at the Youth Center, listening and dancing to the latest records.
All the hours spent at the Sportsmans
or the Dutchmans
or the old A&W drive-in
or, of course, the old Sammy's Pizza.



All the Lake Cabins - Fuzzy's, Sharon's, Chucky's, Brian's, Barb's and Bonnie's.

The party at Fuzzy's cabin where you couldn't walk because the
floor was so sticky from all the beer. I have a couple of good pictures
of Bonnie at that party -

she's been trying to get those negatives
from me for 30 years.
We were together in 3 high school plays - she starred in ONDINE
and the DIARY OF ANNE FRANK and we had a wonderful time
putting on the musical OKLAHOMA.
When she was involved in a project, she gave it her maximum effort.
All of her passion and enthusiasm
was shoved into it.
After the high school years we shared experiences
of actually growing up,
of protesting the wrongs being thrust upon the world,
of new found, mind-enhancing beliefs and substances,
of families, of deaths, of changing partners.
How proud she was of her son, Jesse. She recently remarked
(it was more bragging) that he was going to school in New York-
taking a risk - going after something he wanted.
Well, Jesse, your Mom was just like you.
From hitch-hiking across Canada with Pat
to marching with thousands for Pro-choice in Washington DC,
she believed that a woman could do anything she wanted.
She proved this throughout her life
in all the things she accomplished.
Bonnie was a feminist before it was fashionable. Her politics were
very committed to women's issues, in particular to battered women
but all of her issues came from her heart.
Bonnie always had that sparkle in her eyes.
she had the quality to honestly believe in causes
and that her efforts could make a difference - they usually did.
But this quality also made it easy to make up a good story
(which she would half question)
but then she would say "really? Do you think so?"
She was a cockeyed optimist, an undying romantic -
very frustrating to those who aren't.
Bonnie was also known for her ever-present smile and her laugh.
There was something totally infectious about them.
She never lost that spirit and vitality, that joy of living.
When she came to my house earlier this month, we laughed and
reminisced about old times, but she also wanted to find out about
my wife's upcoming political campaign. She was interested in
everything around her. She would only let her disease be a minor
inconvenience in her life. This woman was on a jet plane less than
48 hours before her body gave up its struggle to live.
She was spiritually and physically beautiful - she had an elegance
and a touch of class that she carried with her
to the end of her physical life.
As someone once said "Don't ever forget your memories".
Bonnie could not be forgotten by anyone who came in contact with
her. Some of the joy we all have today came from Bonnie.
I'm sure you will find that you are still connected with her.
The connecting thread between Bonnie and I hasn't been broken.
Memories will connect our thoughts until we meet another time.
I'll remember Bonnie
but it will be the laughter
I will remember,
when I remember
the way we were.

Dennis Odin Johnson
June 1, 1990
Post Script:
Writing your memorable thoughts in everyone's yearbook, a right of passage and probably necessary to graduate, was no exception for Bonnie. Here is what she wrote in my 1961 Hematite:
Dear Denny -
Being in the same gang for so many years I guess we really have a lot of memories to look back on, hey?
All the great parties way back in 7th, 8th and 9th grades. Of course, we'll never forget the parties - parties - parties we have now - (I guess we're just a partying crowd) but the ones in 8th grade hold all the unforgetable occurrances. RIGHT!! Brian Burton's - Hawki's - Mine - Y-Teens - and, of course, all the many great ones at your house - what about the surprise birthday party we gave Michael. Oh, how we decorated!! Boy, he was really surprised, hey? Then the great presents - toilet paper and that monstrous safety pin. Great times!!
We've had a good time this year, too, don't you agree? Better than the last two years anyway. The plays - naturally, when one of us is in a play, the other cannot miss out. Always it seemed as if you, Fagan and I were in every single play. We had great times at the practices and the parties. Your J.A. scholarship made all of us kids proud of you. The famous "Tiajuana Trio minus 'One'", your recognition in "The Diary" - all great things! And then that Honey "SANDY". Naturally, we can't forget the many "gatherings" this year and all the other "activities". Seems funny to think that after a few more days we won't be together anymore. It's so sad. I'm really going to miss you, Denny, you're a swell guy. Love and happiness to a great friend.
Love,
Bon