ESTHER MIRIAM HATFIELD
Esther Miriam Hatfield, 65, of Duluth, died Sunday, Nov.
Esther Miriam Hatfield, 65, of Duluth, died Sunday, Nov. 30, 2008 at St. Mary's Hospital surrounded by family.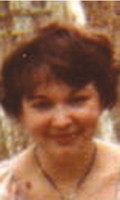 She was born in Hibbing, Minn., on April 23, 1943 to Vito and Mayme Binzello.
Esther was a graduate of Hibbing High School. After working as a nurse she dedicated her life to her family in Duluth.
Esther was preceded in death by her parents and by her sister, Rose Kutzler.
She is survived by her sister, Grace Sauber of Roseville, Minn.; her husband, Donald S.; her daughter, Sarah Hatfield of Minneapolis; her sons, Benjamin Hatfield of Duluth, Daniel J. Hatfield of DeKalb, Ill., her stepson, Daniel D. Hatfield of Tower; her grandchildren, Dacotah and Brianna Hatfield, Isaiah Wyman, and Koda Lambert; and her extended family. Esther will be loved and missed.
VISITATION: 12 noon Wednesday until the 1 p.m. service in Dougherty Funeral Home. Burial will be at Park Hill Cemetery. In lieu of flowers, memorials to the family would be appreciated. Arrangements by Dougherty Funeral Home, 600 E. Second St., 727-3555.