Nancy Hines (Iverson)
Iverson, Nancy L (Hines) age 73 of South Haven formerly of Maple Grove and Hibbing, MN.
After fighting cancer she passed away on 12/23/2016. Preceded in death by husband Oliver, parents,
brother and step-son.Survived by sister Gwen (Larry) Enfield; daughter Noreen (Jerry) Roehl
, Lee (Julie) Iverson,step-children Steve Iverson and Lori Iverson, 3 grandchildren, 6 step-grandchildren,
10 step-great-grandchildren, nieces, nephrews and many friends.Memorial service was December 29, 2016 in Maple Grove.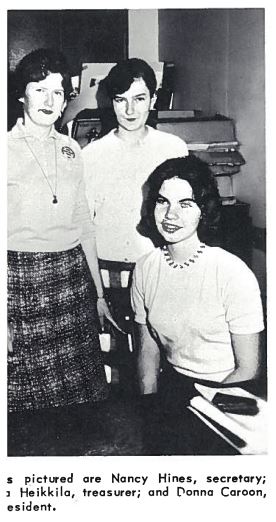 "Officers pictured are Nancy Hines, secretary;
Barbara Heikkila, treasurer;
and Donna Caroon, vice president."