Maurice 'Skip' John Tomperi

(August 17, 1943 - December 17, 2013)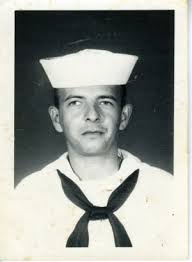 Maurice "Skip" John Tomperi, 70, of Hibbing, passed away Tuesday, Dec. 17, 2013, after a short battle with cancer.
Skip was born on Aug. 17, 1943, in Hibbing. He served in Vietnam on the U.S.S. Galveston in the Navy and the Army and Seabees Reserve, and was very proud of having served.
Skip enjoyed going to church and visiting with his many friends and family members.
He is survived by his children, Michael (Renie) Tomperi and Megan (Randy) Knowles, both of Hibbing; sisters, Carol Hauge of St. Paul and Joan (Harold) Converse of Lake Elmo, Minn.; and many nieces, nephews and friends.
He is preceded in death by his parents, Eino and Emily Tomperi, and brother, Gary Tomperi.
Funeral: Per Skip's request, no service will be held.
Burial: He has chosen to have a burial-at-sea in Hawaii to honor his time served in the Navy.