LAWRENCE "DAVID" WAECHTER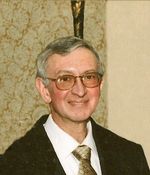 (September 15, 1943 - February 24, 2009)
Lawrence "David" Waechter
Lawrence "David" Waechter, 65, Barnum, passed away
peacefully after a 3 year battle with brain cancer at
St. Eligius Health Center, Duluth with his family by his
side on February 24, 2009. He was born on September 15, 1943
to Lawrence and Dorothy Waechter where he grew up
and attended school. After graduating from Hibbing High School, David attended Hibbing Junior College for 2 years and later attended UMD where he graduated with a degree in Secondary Math Education. David later went on to get his Masters in Math and Physics at St. Cloud State University. David taught 1 year in Albrook before coming to Moose Lake High School where he taught High School Math for 41 years. He was also the Junior Class Advisor for 30 years, Firearm Safety Instructor for 20 years, Math League Coach for 25 years, and also the Knowledge Bowl Coach for many years. The highlights of his teaching career were bringing a number of Math League and Knowledge Bowl teams to State Competitions. He took great pride in his students whose accomplishments were a boost to his morale. David also loved farming, gunsmithing, target shooting, reading, his family, and his animals.
David was preceded in death by his parents: Lawrence and Dorothy Waechter and an older sister: Frances Ann.
He will be deeply missed by his loving wife of 33 years: Susan; four children: Heather of Minneapolis; Joshua of Minneapolis; Kristy (Paul) Slattery of Duluth; and Larry of Minneapolis; a sister: Marie (Lowell) Kytola of Brookston; his niece: Traci and nephew: Mark; father-in-law and mother-in-law: Louis and Annette Dahlmeier of Moose Lake; two brother-in-laws: Steve (Marilyn) Dahlmeier and family and Michael (Jo) Dahlmeier and family; and a sister-in-law: Karen (Tim) Coil and family.
The family would like to thank St. Luke's Hospital & Hospice; Dr. Mark Plachta and his nurse Lisa; Dr. L. VanEtta and staff; and the wonderful staff at St. Eligius Health Center.
A Memorial Visitation will be held from 1 – 3 PM Saturday, February 28, 2009 in Hamlin-Hansen-Kosloski Funeral Home, Moose Lake. Private family inurnment will be in the spring at Arrowhead Cemetery in Brookston.
In lieu of flowers, memorials are preferred.