Wilfred L. "Butch" Kirsling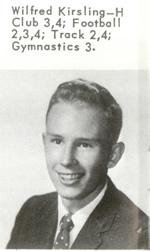 Published: Sunday, March 29, 2009 6:08 AM CDT
Wilfred L. "Butch" Kirsling, 65, of Hibbing, died Friday, March 27, 2009, in Hibbing.

He was born in Hibbing to Louis and Winifred Kirsling. He married Audrey Dilley in 1967 at the Blessed Sacrament Catholic Church in Hibbing.

Butch worked at Hallock's clothing store for many years after he came back from serving in Vietnam. In his later years he was employed at Walmart. He enjoyed golf, bowling and fishing with his cousins and late father-in-law Andy Dilley, whom he considered his best buddy.
Butch is survived by his wife Audrey; two special daughters Lynn (Larry Schenkey Jr.) and Steffani (Mike) Edmonds; two precious grandsons Matthew and Christian and their dog, Morgan; a sister Shirley Gremes of Hibbing; two brothers Tom (Mary) Kirsling of Duluth and Greg (Sherie) Kirsling of Sauk Rapids; and several nieces and nephews.

He was preceded in death by his parents; his mother- and father-in-law, Frances and Andrew Dilley; and his brother-in-law Paul Dilley.

Funeral: Services will be held Wednesday at 10:30 a.m. in the Immaculate Conception Catholic Church. The Rev. Peter Muhich will celebrate the Mass of Christian burial.

Visitation: Will be in the church Wednesday, from 9:30 am. until service time.

Burial: Will be in the Maple Hill Cemetery.

Arrangements are with the Dougherty Funeral Home.