Hibbing High School
Student Class List
First Grade 1949-1950

Arden Bjordahl
Chuck Bloomquist*
Sam Bonelli
Kay Breseler*
Brian Burton
Darrell Carls
Richard Carlson
Nancy Catani*
Bob Chisholm
John Curran
Rosalie Dosen
Cynthia Erickson*
Steve Erickson*
Dean Greaton
Scott Harrison
Ken Helland
Steve Hennessy
Dennis Johnson*
Bonnie Jetty*
Bill Kangas*
Donna Korhonen*
Kathy Langer*
Bob Lind
Joan Martinson
William Nelson*
Rosemary Novak
John Parish
Paul Pederson*
Bob Scott*
First Grade 1949-1950

Second 1950-1951

Third 1951-1952

Fourth 1952-1953

Fifth 1953-1954

Sixth 1954-1955

Seventh 1955-1956

Eighth 1956-1957

Ninth 1957-1958

Tenth 1958-1959

Eleventh 1959-1960

Twelfth 1960-1961
* Graduated from Hibbing High in 1961
This list is from the archives of Kay Breseler
| | |
| --- | --- |
| | |
| 4th Grade Christmas Play | 6th Grade Christmas Play |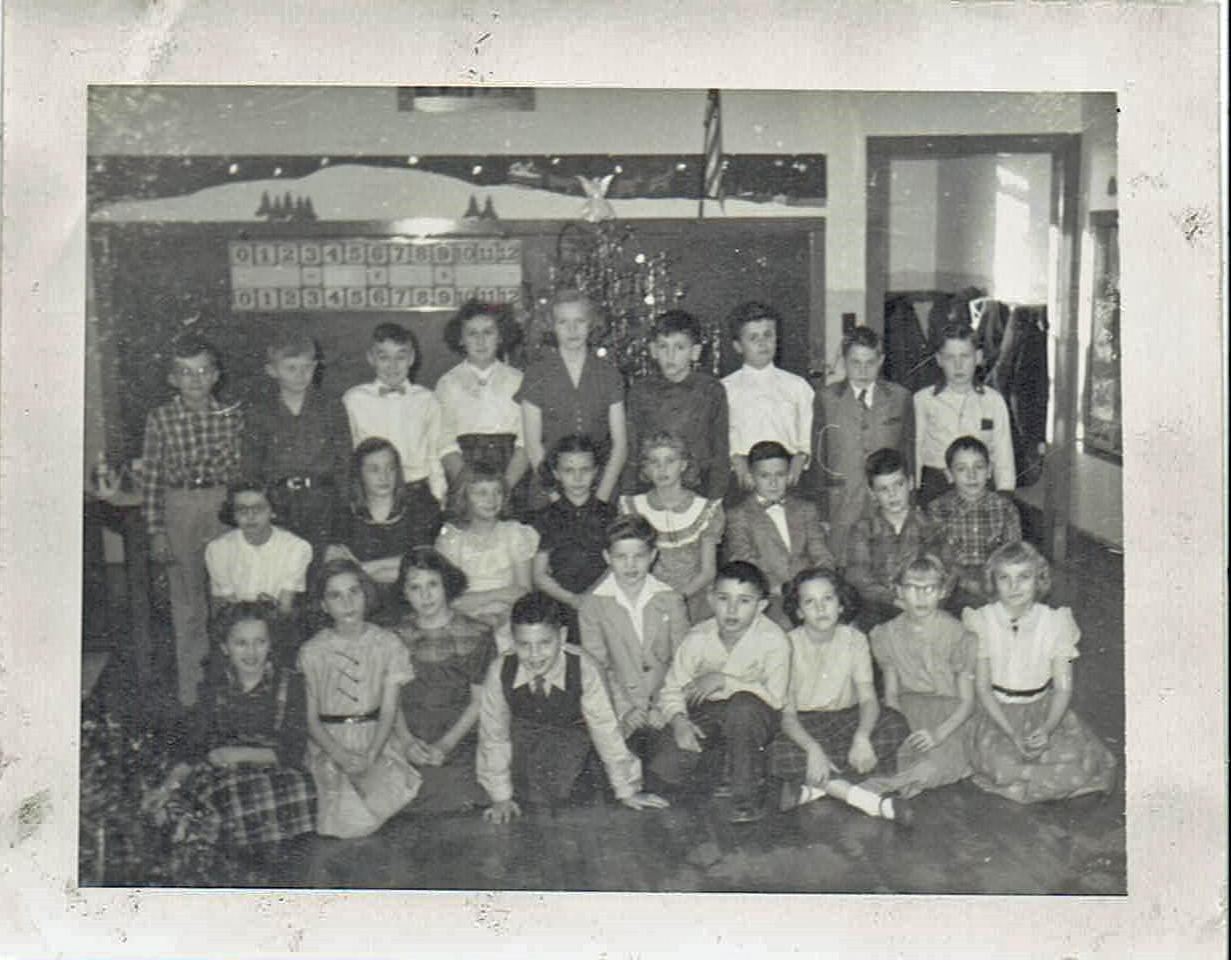 5th Grade - Brooklyn (above)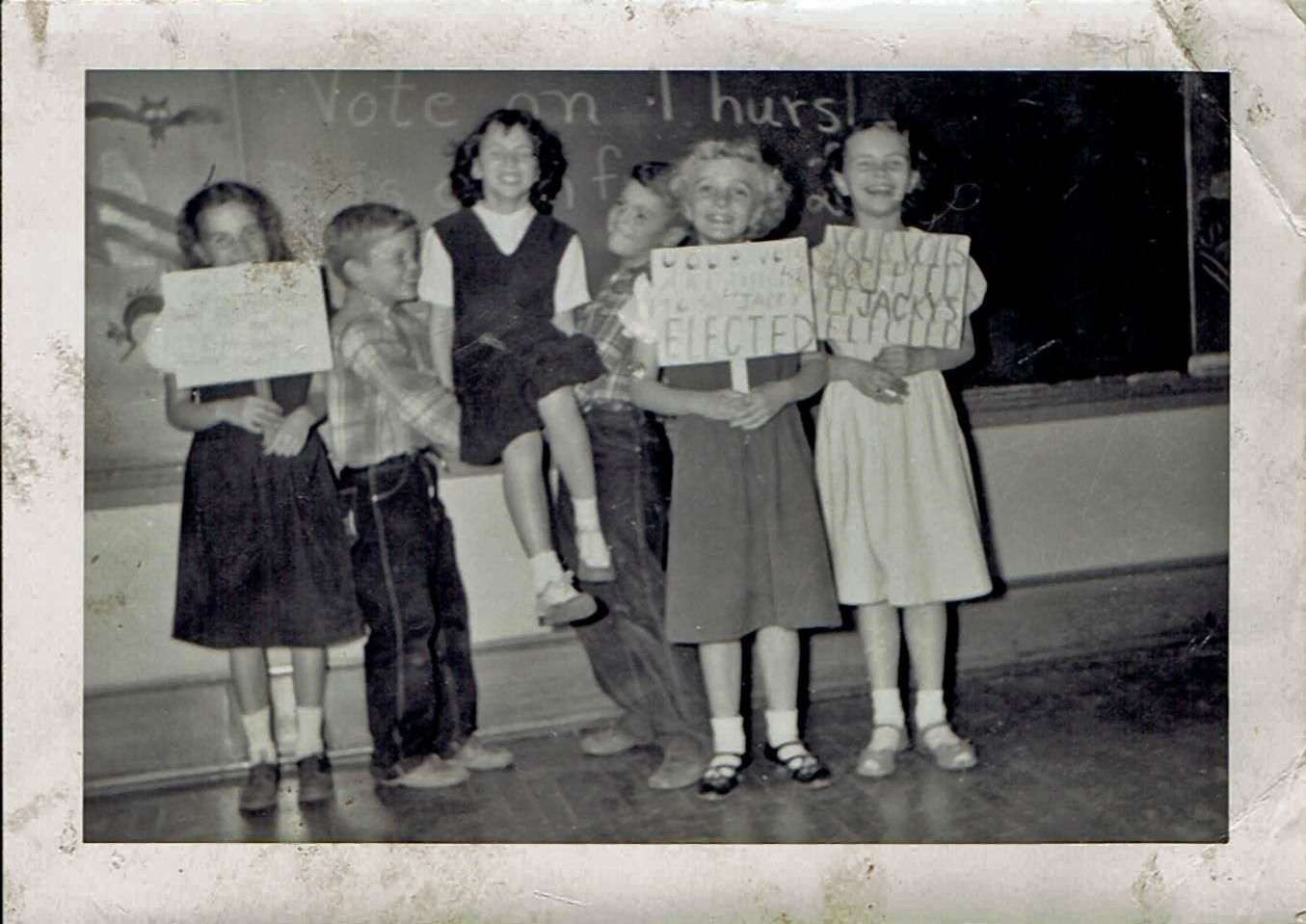 4th Grade Elections - Brooklyn (above)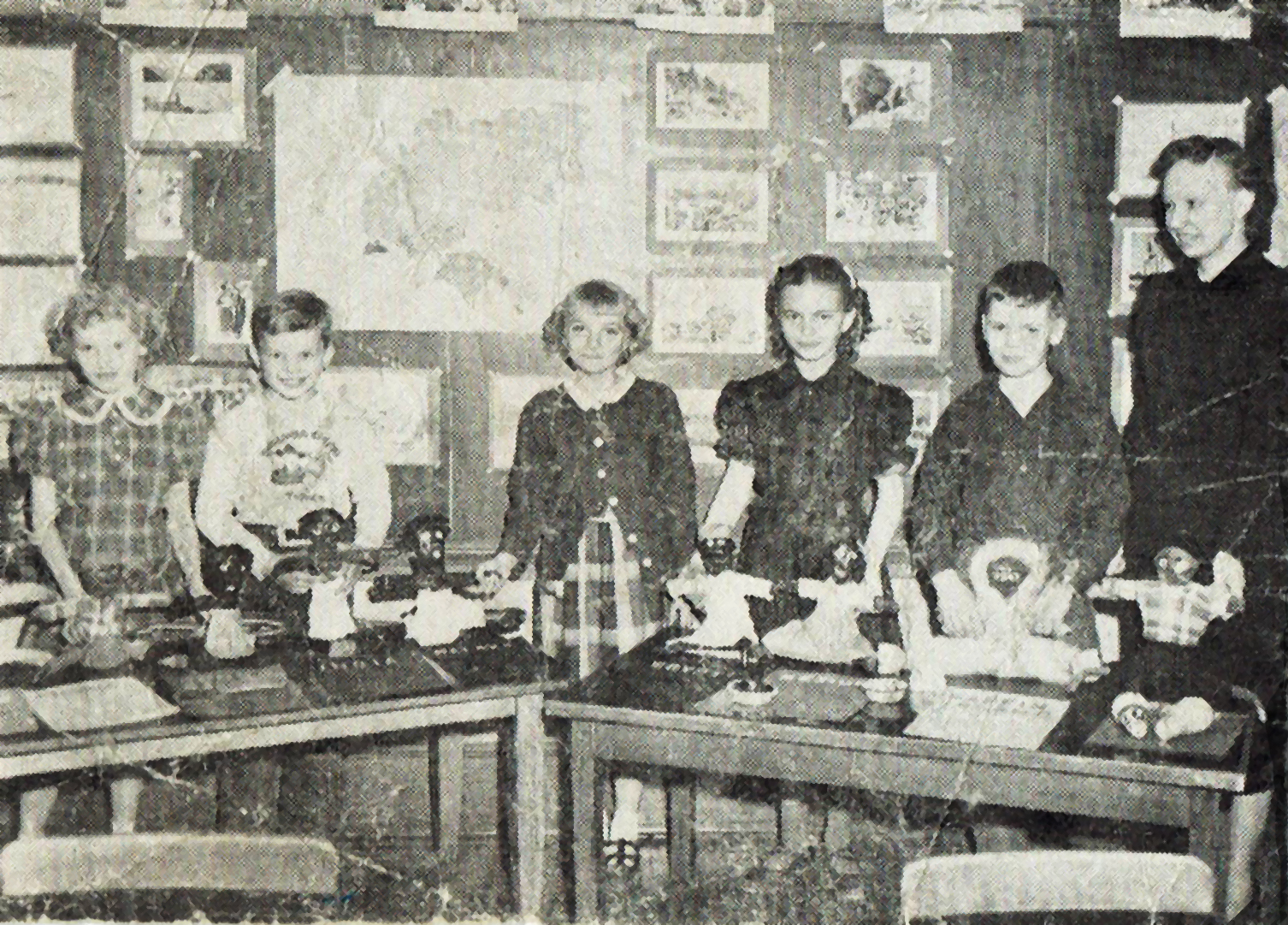 4th Grade Displaying dolls that represent other lands. (above)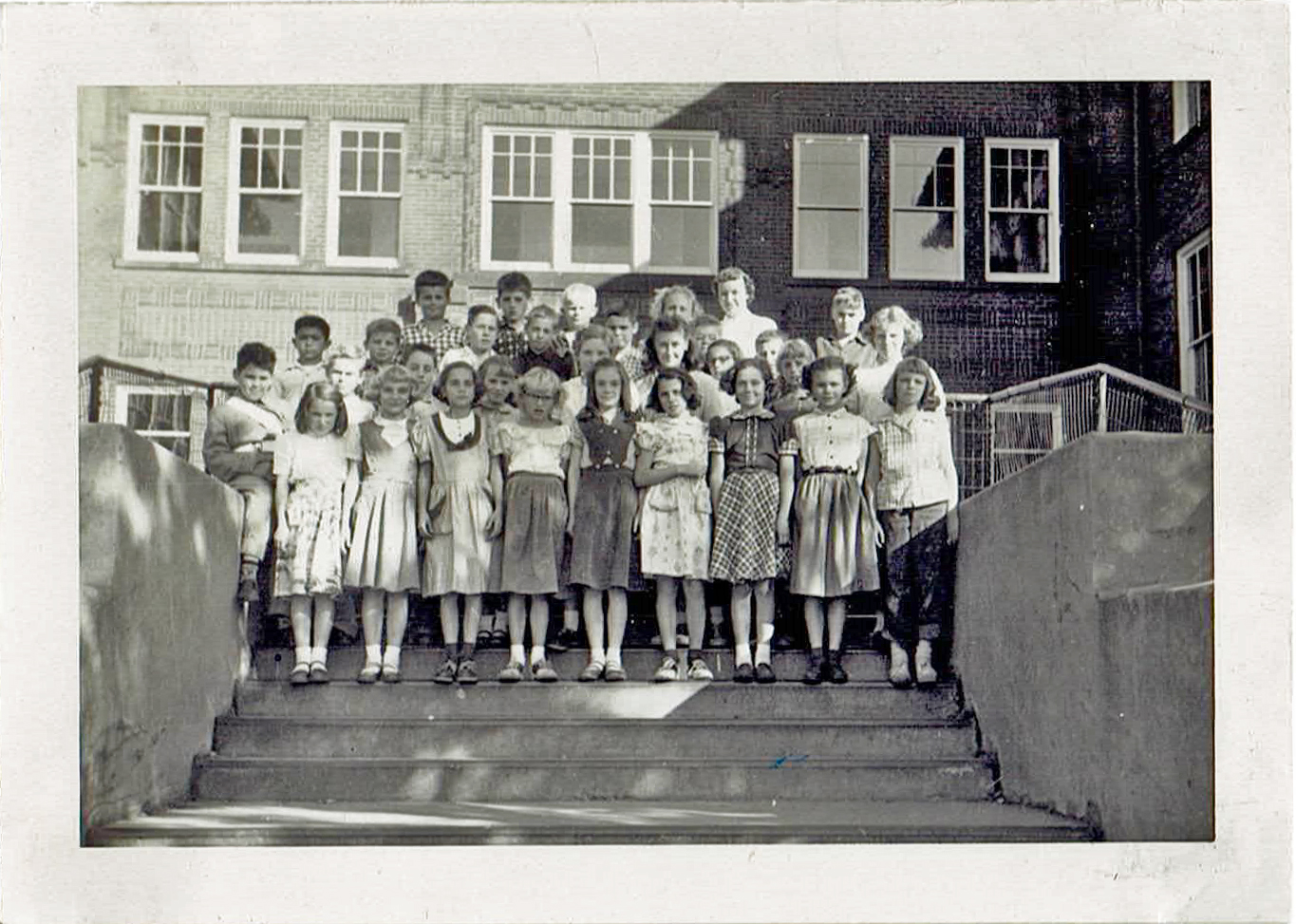 5th Grade - Brooklyn (above)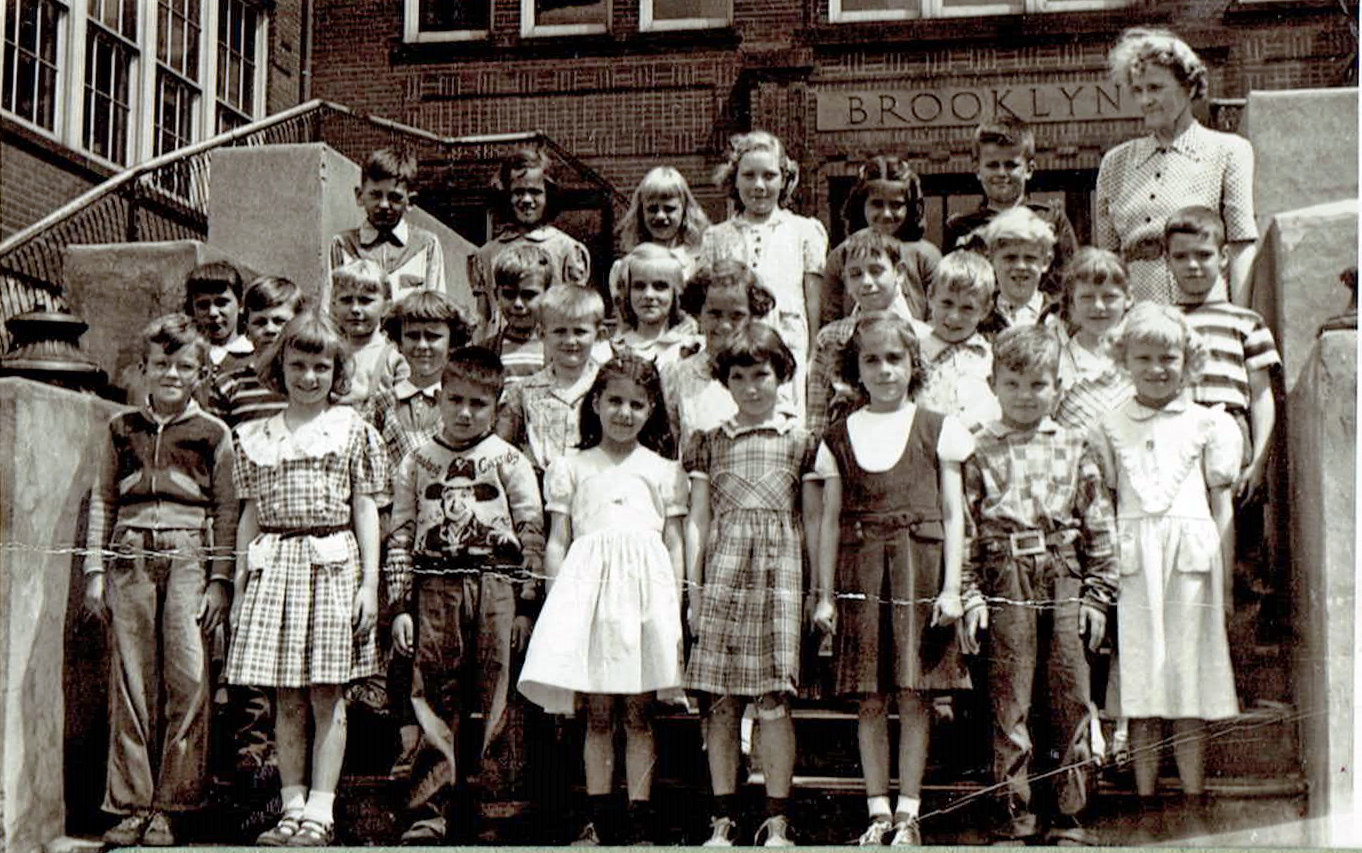 Miss Gloab's Class (above)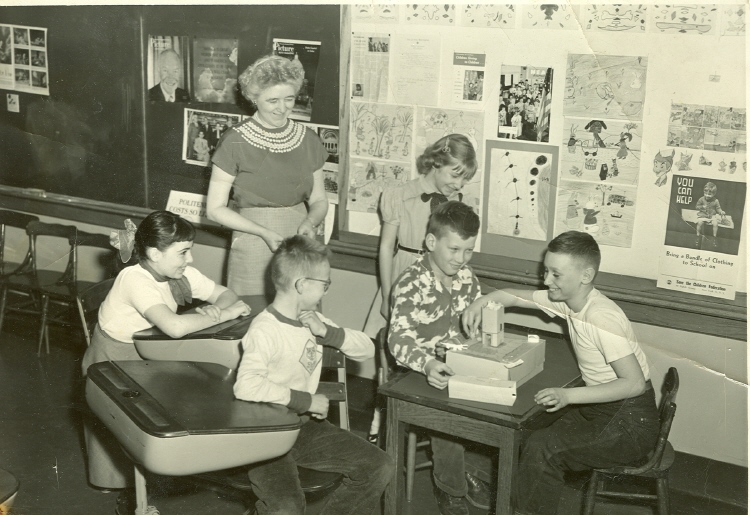 Mrs. Paulsberg's fourth grade class in the Hibbing High School
Pictured: L to R - Sheila Rothkopf, Richard Carlson, Vicki McDermott, Dennis Johnson, Bob Perfetti
Following is the article which appeared under the picture: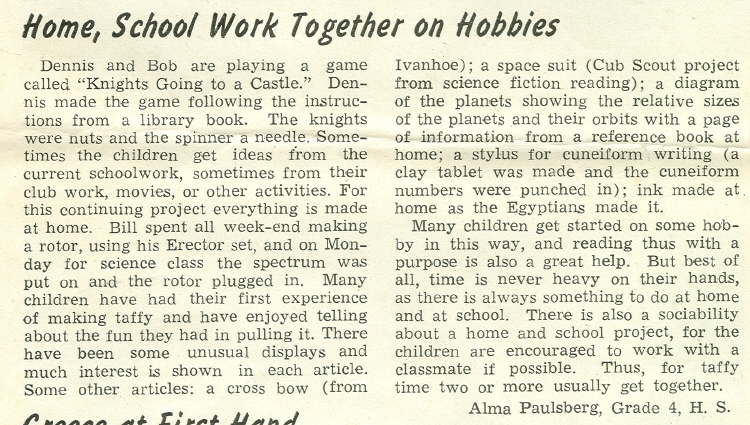 In the same issue of "ORE BITS", this picture and the caption appeared. Can anyone tell us who these kids are?
Being 4th graders in 1953, they would be members of the graduating class of 1961.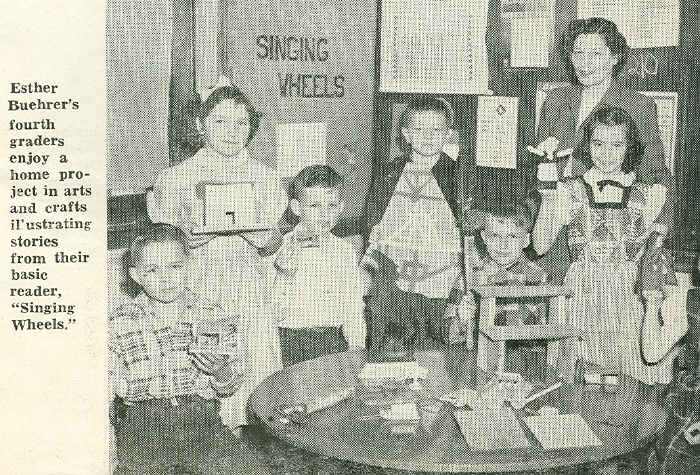 Per Keith Grundfeldt: Dennis Carpenter is on the left, James Demgen is to the right, Keith Grundfeldt standing next to the teacher. Unsure who the two girls are or the boy seated on the right hand side.
Kindergarden Class at the Hibbing High School 1948-1949
Kindergarten photo was taken in classroom during a birthday party for Billy Kangas. Photo taken
Janurary 1949, probably by Arnold Maki.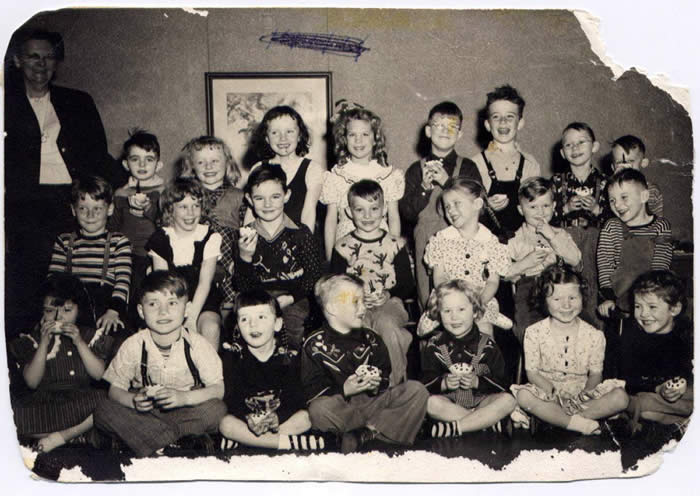 Top Row:
Teacher: Miss Stone
Louis Cannata, Joan Marinson, Bonnie Jetty, Cynthia Erickson, Stephan Erickson, Richard Whelan,
Richard Carlson, William Nelson
Middle Row:
Charles Blomquist, Nancy Joy Johnson, Howard Hautala, Pat Coschignano, Darlene Hausam,
Arden Bjordahl, Kenneth Helland
Bottom Row:
Kathleen Tellor, Fred Nelson, Roberta McGowan, William Kangas, Billy's Sister, Susan, Kay Bressler,
Barbara Toomey
Absent:
Patrick Furlong, Robert Lind, Ray Maki and Patty Ann Reichel
3rd Grade
Picture submitted by Donna Korhonen Yecke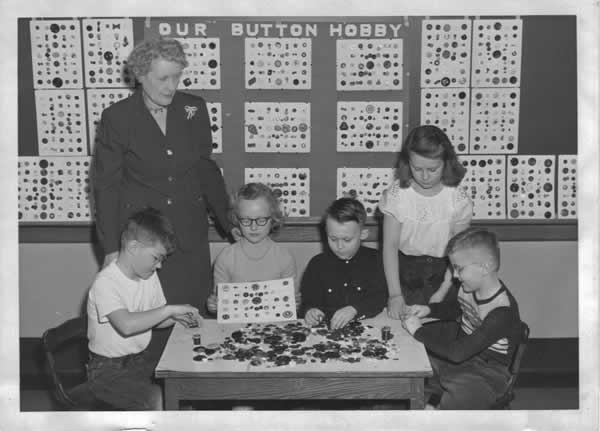 Miss Parrish, Robert Scott, Joan Martinson, Bill Nelson, Donna Korhonen Yecke and Paul Pederson
5th Grade at Lincoln School
Picture submitted by Donna Korhonen Yecke

Mr. Krause's 5th grade class
Photo courtesy of Sharon Breen Holte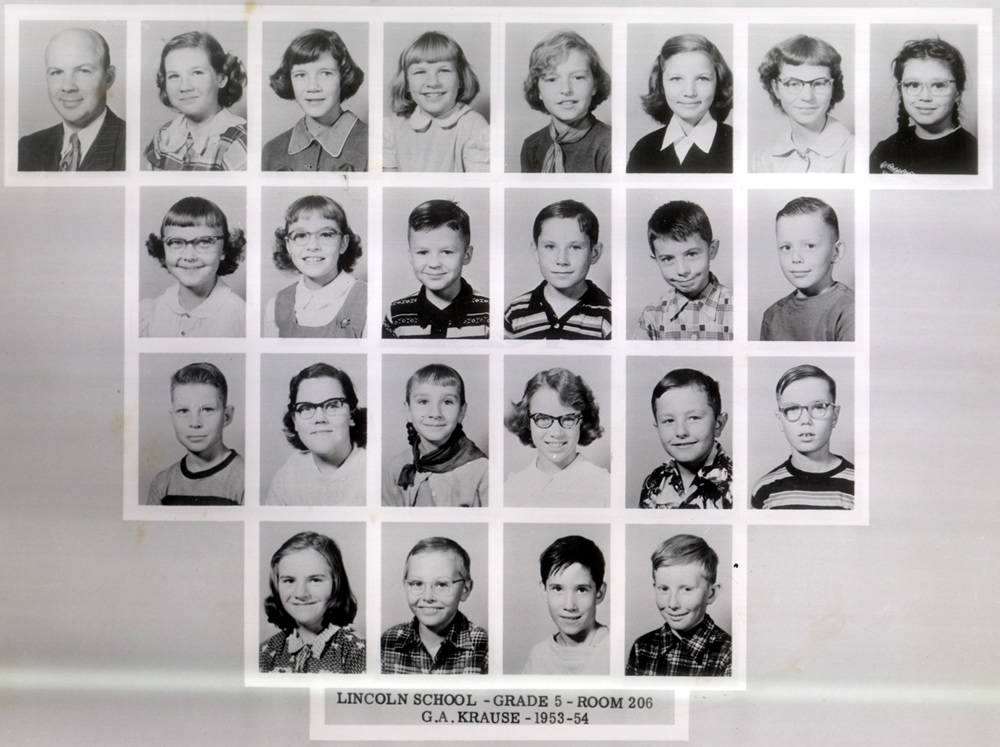 | | Row 1 : Gilbert Krause, Sharon Bronson, Sharon Ellingson, Bette Lou Bronson, Lois Fletcher, Donna Cann, Kay Bressler, Joyce Hallila | |
| --- | --- | --- |
| | Row 2 : Winifred Frost, Patricia Burho, Jeffery Dolinich, David Brandt, Ronald Crowell (?), James Csargo | |
| | Row 3: Lauren Anderson, Virginia Adamich, Nancy Catani, Sharon Breen, Keith Grunfeldt, John Hobrie | |
| | Row 4: Patrcia Brady, Norman Cowling (?), Stanley Boutch, ______(?) | |
Feb. 27, 1961
(Click Picture to Enlarge)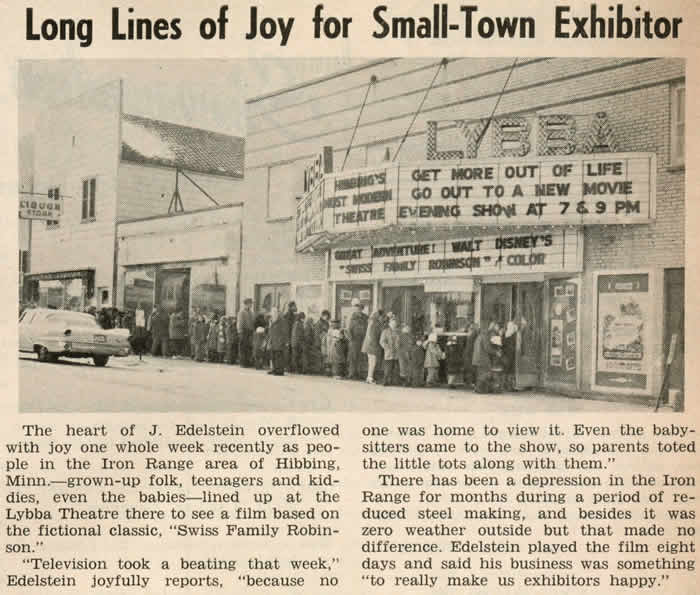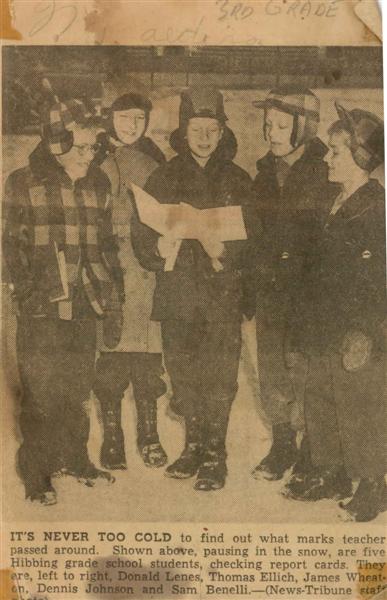 Dec 10th. 1950 - When winter was really winter.